EPHG Limited Reviews
---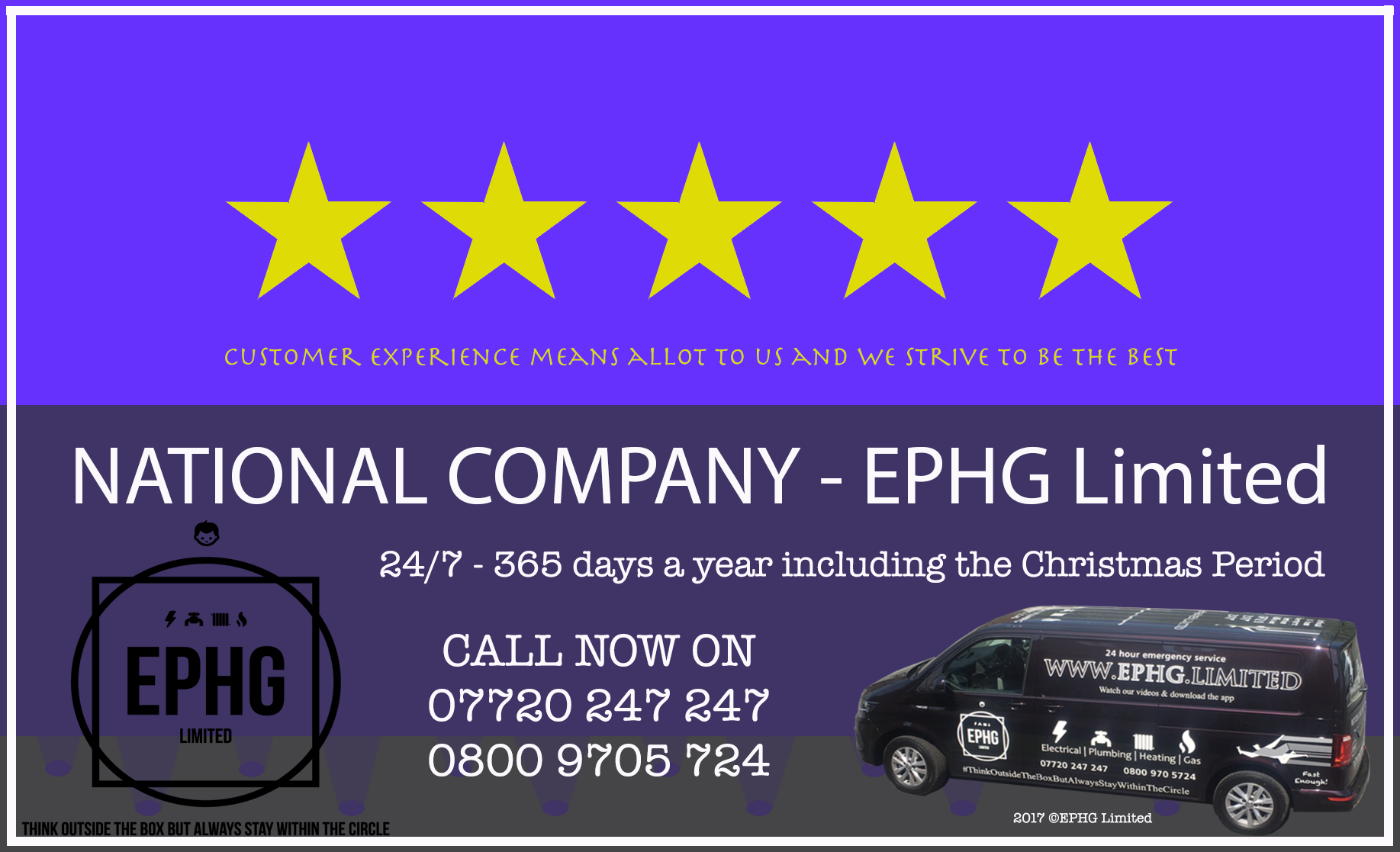 The idea of this page is when you search for EPHG Limited reviews, you land on the EPHG website that best explains our reviews from around the internet.
Our EPHG Limited reviews page on this website here is to also help you decide what is fake and what isn't fake on the internet.
As of the 25th January 2020, EPHG Limited have over 465 reviews being of 5 stars. Over 7 reviews are 4 stars and under 4 reviews are 1 stars.
The only reviews that are 1 stars seem to be clients that have not had there boiler fixed because parts were required, however, there is no evidence that the person making the review was a client of EPHG and as of the 25th January 2020, there has been no email from the client to either make a complaint or confirm that the review was of there own material.
Another negative review was left regarding charging over £200 for replacing a plug socket and again, after 30 days and still today, nobody has come forward to confirm that the review is legit.
EPHG Limited Trustpilot reviews
---
It seems that Trustpilot is acting unlawful with plenty of bad feed back about Trustpilot regarding their system and allowing unlawful reviews to be published.
It also seems very easy to type EPHG Limited Reviews and up pops Trustpilot with a page heading 'EPHG Limited' where it explains from a Mac computer in the top right side that the page is 'Unclaimed' stating that the company might not know this profile exists or they haven't claimed it yet.
The first review if you was to look on the 25th January 2020, you will find that the reviewer is Mark Hill who had tried to Blackmail EPHG saying that if you give us the call-out fee back, I will take the review down, Mark Hill also explained that if we threaten to take him to court, he will write more reviews all over the internet, radio stations and newspapers. However, EPHG don't tolerate blackmail and will be looking into this further.
The second review was deleted and therefore we no longer require to defend ourselves regarding this review.
A third review but now deleted was a client giving us two stars under the name of Susan Stokes who was a client of EPHG and was happy with the service, however, it turned out that Susan was paid £5 to write reviews and that was the reason our client had written a review about EPHG.
The forth review was written by a James Humphries given us an awesome 5 stars, however, EPHG was unable to find out who the reviewer was to be able to thank them but also ask them if they could take the review down as we don't believe or Trust Trustpilot due to the unlawful reviews that can be accepted on the Trustpilot review system.
The fifth reviewer under Afrapp who ever this person is seems to be giving our company a negative review and publishing another company at the same time which there quote is nothing to do with EPHG and the person who is writing the review isn't verified as a customer of EPHG and no complaint received so EPHG Limited would find this very bizarre.
Please note, because EPHG Limited don't agree to the terms by Trustpilot, it is unlikely that EPHG would be able to claim the page or defend themselves as EPHG are afraid to agree to negative damaging reviews being aloud and the worry that Trustpilot want paying £150 or more for them to help us out. We understand that Trustpilot have to make money some how, but that somehow is a very grey area because we don't see on there website with a disclaimer to how they make their money.
My advice to you if writing a review about any company is not to defame a companies reputation if you decide to write a negative review as it could get you into trouble if the review is untrue and unfair to the company in question.
We believe that Trustpilot claim that the reviewer is responsible for the review but what reviewers may be unaware of that they could be responsible for damage to a company if the reviews are false.
EPHG Limited don't believe in writing reviews on there own website as this can be seen as the company being biased only saying good things, however, all the good reviews on Yell show how good the company are and we think that is what you should go off.
It is very good to note that all our clients have got access to the terms page via all advertisement pages which explained everything about the service including given the rates. Once a booking had been made over the phone and as long as we receive a mobile or an email address, we will immediately send you a confirmation receipt with a link to what you should expect from our company in every little detail as we currently can think off.
Latest Reviews We've decided to include
On the 26th July 2020, our latest review out of 48026 clients is a review from an abusive client and the article we have included in the review is all about has my plumber been unlawful or am I being unreasonable?
Here are a list of useful links below to help you understand how much we try to make your use of our service the best we can.
At this point we have managed to obtain over 51580 clients on the 13th November 2020, that is over 3500 more clients since my last similar article of which decided to write up another article that was inspired by a JamesL-2783 at can a reviewer request money back to take a review down?