24 hour emergency electrician Blackburn
---
Are you looking for a 24 hour emergency electrician in Blackburn of Lancashire then you've come to the right please
---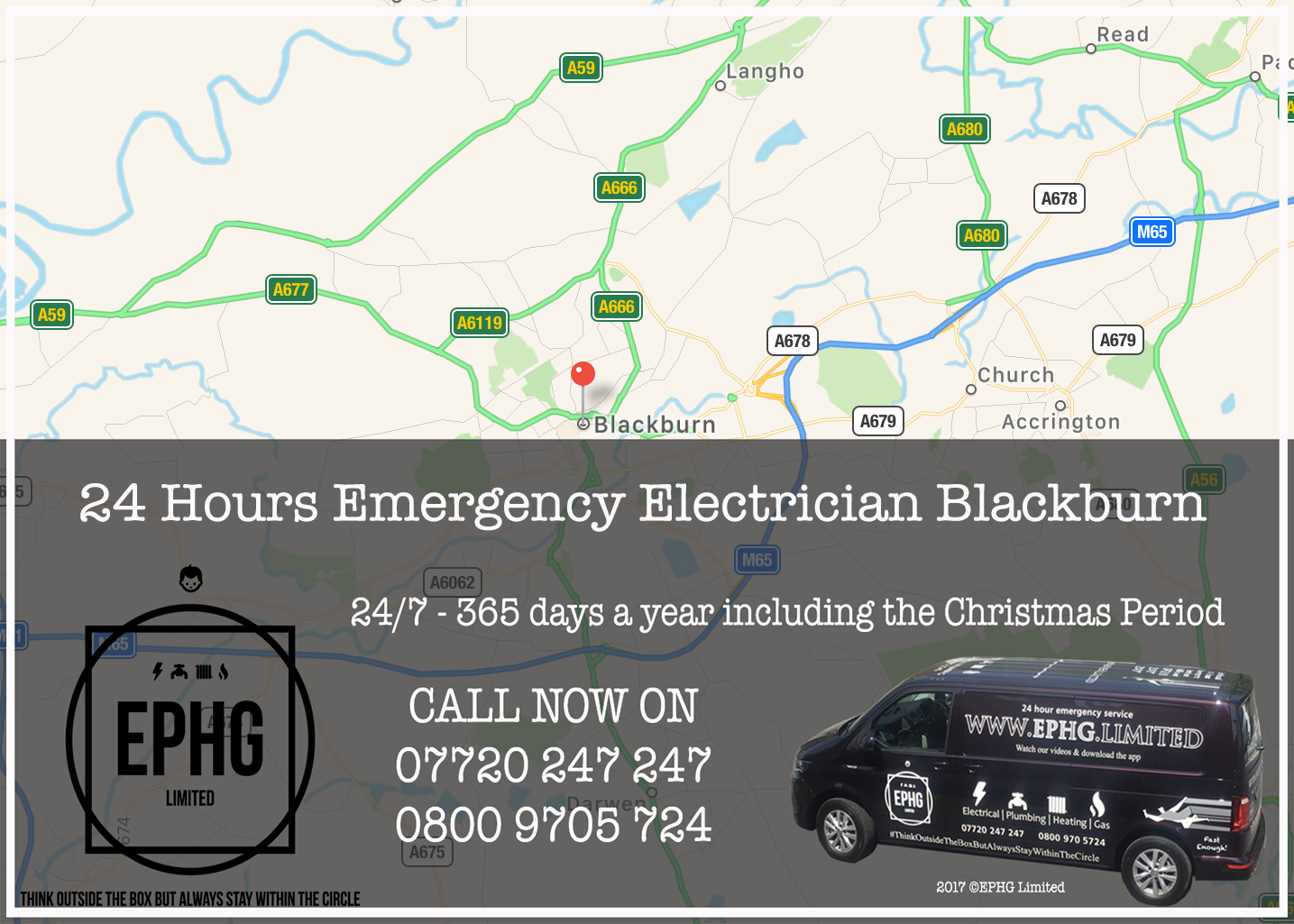 As a 24 hour emergency electrical company in Blackburn, we specialise in all types of electrical emergencies but not only do we do electrical, we also have a fully qualified emergency plumber, heating engineer and a 24 hour gas engineer in Blackburn. Before you decide to book us then please meet the direct and watch the video or just give us a call on the above number 07720247247.
The villages we cover surrounding Blackburn of Lancashire are Top Of The Ramsgreave, Brownhill, Rishton, Intack, Guide, Lower Darwen, Livesey, Feniscowles, Cherry Tree, Pleasington, Mellor Brook, Mellor and Osbaldeston. We also cover Preston, Bolton, Burnley and Bury.
About our 24 hour electricians in Blackburn
---
Wonder the type of jobs that our 24 our electricians Blackburn do then please note we are specials in emergencies from stoping your house alarm from going off, getting your electricity back on when your board is tripping due to an electical fault.
When you get an electrical fault and your board is tripping, our aim is to get your consumers board back on and working again however these target may not be met due to safety reason but what we do should be reasonable.
Not only do do we run a service for a 24 hour emergency electician Blackburn in Lancashire but we will cover as far out as 30 miles and more. In any case as were a national company, in most cases, distance should'nt be an issue.
We do many service such an emergency electrician, emergency plumbing, emergency heating engineer and emergency gas engineer in Blackburn and the surrounding area.

24 hour electrician in Blackburn
---
As we specialise in a 24 hour electrical service Blackburn this means it does matter if you call us at 02:00 early hours of the morning or 14:00 in the middle of the day we will still come out to you regardless of the time, however please note that the rates will reflect the time we come out to you as a 24 hour electrician in Blackburn.
Midnight electrician in Blackburn
---
A midnight electrician Blackburn the time may be different to getting to you in the day as there will not be as many engineers on call but what we can say is that we can get a 24 hour midnight electrician in Blackburn to you within 2 hours but try to aim for a 30 minute response time.
Emergency electrician Blackburn
---
An emergency electrician Blackburn could meen a 24 hour electrician but the difference is that an emergency means that we respond immediately and within a reasonable time due to the nature of the problem.
Please note when calling a 24 hour emergency electrician in Blackburn, we a large company that requires a deposit each and everytime we send a 24 hour electrician out where ever it is in the middle of the day, at midnight or any time. The deposit needs to be paid before the booking is complete and we organise then electrician in Blackburn to call out.
Please note when using our emergency electrical service in Blackburn that as a large company, the engineer may not live in Blackburn and from your search and most likely within a 20 minute driving distance and if we cant get you one of our engineers from these areas then we will at least get you an out of area electrician over.
Electrical Boiler Fault Blackburn
---
If you have an electrical boiler fault in Blackburn and your looking for an emergency electrician, please note that it may not be an electrician you are looking for as an electrician can only work between the consumers unit and the switch spur, mains plug or the electrical point leading to the boiler and you may require an emergency heating engineer that is gas safe. Fore more information on electrical boiler faults please see our article and video.
Electrical Plumber in Blackburn
---
Are you looking for an electrician plumber Blackburn or just an electrician and a plumber. These type of issues of most requiring an emergency electrician and an emergency plumber when there is water pouring over the electric but please note when calling out service the electrician we send out will most likely not be a qualified plumber and a plumbing engineer may have to come out seperately.
Please note if you liked the video above and would like to see more alike then click into one area page below and start searching through as we have a video on each page dedicated to each area.
If your looking for Blackburn Electrician in the surrounding areas such as Top Of The Ramsgreave, Brownhill, Rishton, Intack, Guide, Lower Darwen, Livesey, Feniscowles, Cherry Tree, Pleasington, Mellor Brook, Mellor and Osbaldeston. We also cover Preston, Bolton, Burnley and Bury.
Looking for another service and not just Blackburn 24 hour Electrician, here are some links to other services we do in the same area such as a plumber, heating engineer, gas engineer or may you need a boiler repair.
Back to Electrician Lancashire or visit 24 hour emergency electrician.